Eels prop Reagan Campbell-Gillard will team up with his powerful pack of 'rejects' and try to knock out the team that is still paying some of his wages.
Which must be at least a little weird, right?
Especially given this powerhouse Parramatta prop – a fella all tough carries, jarring defence, even the strongest of moustache games – is now looking to go and upset those same Panthers in an NRL blockbuster on Saturday night.
So c'mon Reg, how does it feel getting cash from the club you're trying to finish?
"Ah, it's just part of my deal," he says, swatting off the question like, say, one of those bright orange bump pads. "And I'm definitely not the only bloke getting paid by his old club."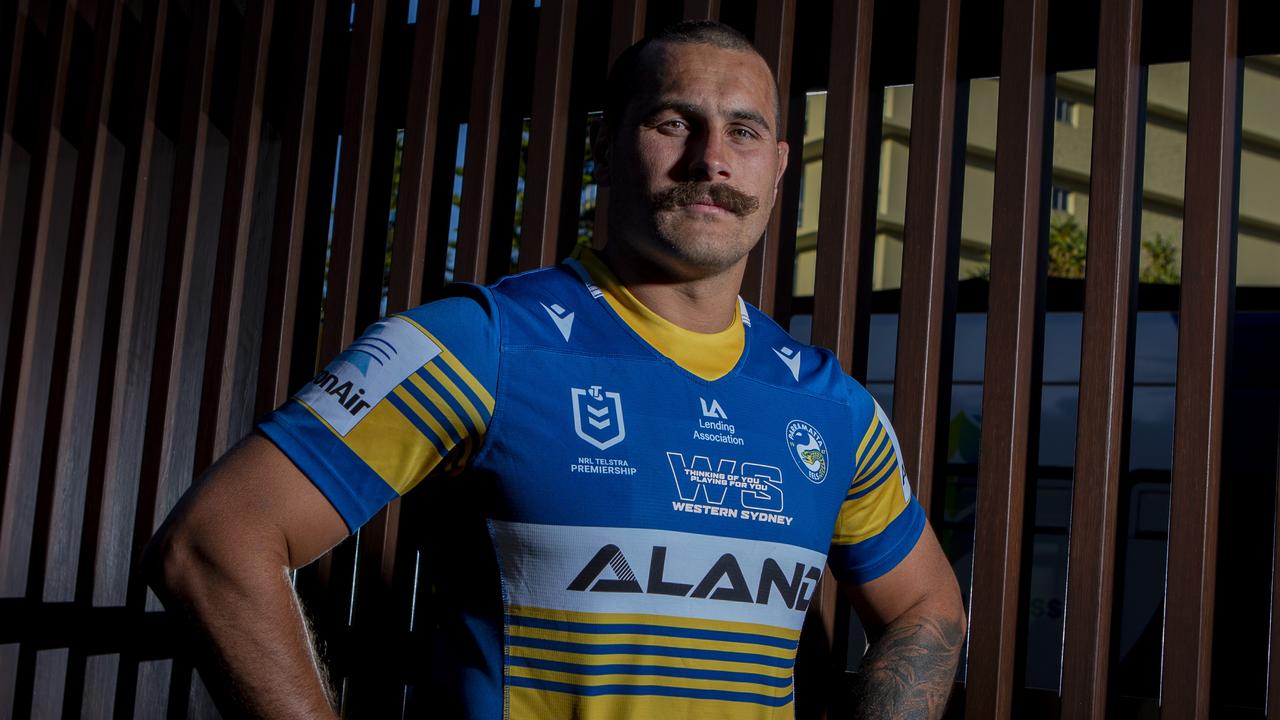 Reagan Campbell-Gillard has moved from his time at the Panthers. Picture: Jerad Williams
Which is true, of course.
But still, this is Parramatta versus Penrith. Battle of the Ugg Boot Cup.
With RCG not only a former Panther, or current employee, but as recently as last October, standing accused by no less than NSW No.7 Nathan Cleary of having "pissed off" his old teammates.
Specifically, Cleary said, the Panthers were upset with comments RCG made after leaving the club. Most notably, the incredibly honest evaluation that he stopped trying after being dropped to reserves by coach Ivan Cleary.
So as for the two having since cleared things up?
"Nah, no comment," Reg says, bumping us off again. "While I'm playing against my old team this weekend – and some old mates as well – it really is just another game for me."
Really?
"I know this will sound strange," he continues, "but I don't even look at Penrith like they're my old team anymore. I don't get caught up in the emotion of that.
"Definitely last year, playing them for the first time was strange. But both parties have moved on. They've moved on, I've moved on."
Only two years after being shown the door at Panthers, RCG is now proving to be something of the Eels spirit animal.
The leader of a pack he jokingly calls 'The Rejects'.
Which isn't far wrong.
Take, say, Eels backrower Bryce Cartwright, who was completely friendless as recently as September. Same deal Isaiah Papali'i, who after being unable to get a run with the Warriors last winter is now in every conversation for NRL Buy of the Year.
Shaun Lane?
He humped a swag through three NRL clubs before joining the Eels in 2019.
Just as Junior Paulo was dubbed a risk when hauled home from Canberra and Nathan Brown, he was picked up from South Sydney for pocket change, given his reputation back then as the code's biggest grub.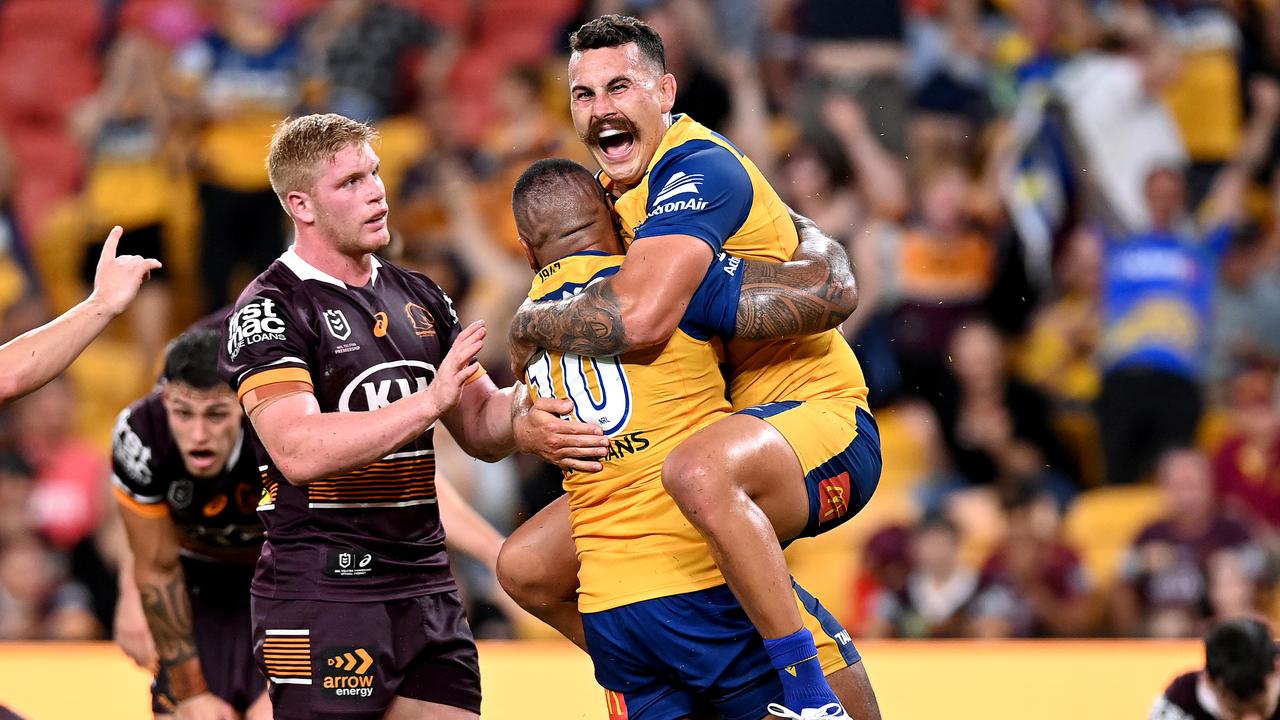 Reagan Campbell-Gillard celebrates with Junior Paulo after a try against the Broncos. Picture: Bradley Kanaris/Getty Images
All this too before we get to Eels No.9 Ray Stone, that tattooed Wests Tigers reject also doubling as the side's third-string hooker come Saturday night.
"And one of the toughest blokes I've ever played alongside," Campbell-Gillard says.
Better, he fits the narrative.
"Yeah, we're the rejects," RCG continues. "The guys nobody else wanted.
"But this forward pack we have here, the combinations, it's something I've never had in my career before. It's such a skilful and powerful group of guys."
So as for the key to rugby league's misfit pack?
"Brad," he says, referencing coach Brad Arthur. "Exactly what he does for you, I can't explain it. You'd really have to come in and experience things for yourself.
"Because you really do know it when you're here."
Then, after a short pause, he continues: "It's the players, too.
"This is a high energy team with no dull moments.
"And when you're in an environment where you feel comfortable, where you're enjoying things, it's really easy to go out and play good, simple footy."
So as for what Campbell-Gillard makes of recent headlines suggesting Arthur's future at the Eels is under pressure, especially if they bow out against the Panthers this weekend?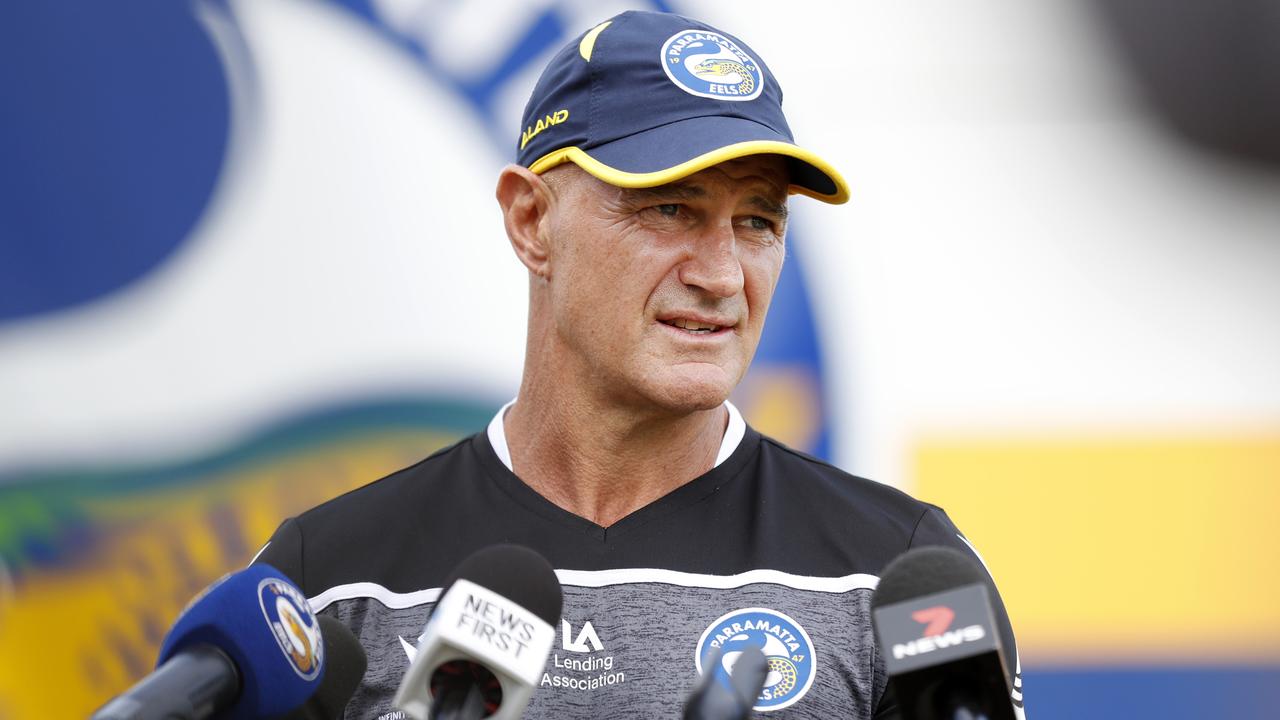 Reagan Campbell-Gillard is full of praise for coach Brad Arthur. Picture: Jonathan Ng
"You don't like to see it, obviously," he says. "But Brad's a big boy. He can look after himself. And like I said earlier, I've only got the highest praise for him."
After being sidelined since Round 20 with a troublesome groin issue, Campbell-Gillard made an outstanding return last weekend against Newcastle, with both he and Paulo particularly strong up front.
So while this may be just another game come Saturday night, surely the Eels enforcer will have something saved up for Isaah Yeo, that Panthers No.13 who doubles as his great mate?
"Mate, he refuses to even make eye contact on the field," Campbell-Gillard laughs of his old Panthers roomie. "Dunno why.
"After a game he just says he isn't allowed. Well, it's not that he isn't allowed, but he doesn't want to start laughing or anything like that.
"So even when I try to give him a smirk, I get nothing. I have to wait until after the game."
So no reminiscing?
"Mate, I've been at Parramatta two years now," the prop says simply. "This is my home."
https://www.dailytelegraph.com.au/sport/nrl/nrl-2021-reagan-campbellgillard-ready-to-end-penrith-panthers-premiership-dreams/news-story/336135ccb7e42656acb06faae5878911