16:43 / 17.08.2019 THE AGE
Shaun Lane, who recently missed a game of football after coming off second best to an avocado, has been fined five per cent of his annual income over his Mad Monday antics.
The Parramatta forward, who scored a try in his side's 36-12 win over the Gold Coast on Friday night, was sanctioned after images of him holding a plastic bag with a white substance were published last week.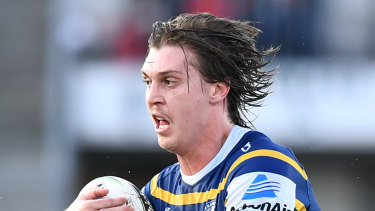 Shaun Lane has been fined by the Eels after a photo of him holding a bag with a white substance was made public this week.
It's understood Lane fronted the integrity unit without representation from a lawyer or his manager as he explained the circumstances surrounding the incident. The NRL fined him $17,500 for bringing the game into disrepute over an incident that took place while he was still contracted to Manly.
Those close to the matter believe the images were released in a bid to derail Lane as his team approaches the finals. It didn't have the desired effect as Lane scored a try, made 29 tackles and ran for 109 metres against the Titans.
"Shaun has accepted responsibility and demonstrated genuine remorse for his actions, the club is working closely with him to ensure he has a clear understanding of the club's professional standards," the Eels said in a statement.
Loading
"The club will continue to provide Shaun its full support."
Lane, who is expected to front the media on Monday to explain himself, has had a rollercoaster month. The 24-year-old suffered the most bizzare injury of the year when he injured his finger the day of the Manly game - while trying to eat an avocado.
While he played on despite the setback against the Sea Eagles, he missed the round 19 win against the Warriors after undergoing surgery.
"I was trying to pry the seed out of an avocado," Lane told the Herald last week.
"I stabbed through the avo and through my finger, cutting the artery and nerve, I needed to get surgery.
"I played with it. This was my pre-game meal before the Manly game, it started gushing out all over my food. I rushed to the game, got my finger stitched up and my hand was numb and strapped. It was probably my worst game of the year."
The backrower revealed to club doctors the cause of the injury despite the embarrassment it caused.
Once his Eels teammates found out, they bombarded his phone with avocado memes for a week.
"I told them the truth, I thought it might help medically," he said. "They had a bet, when I walked in they said 'how did you do it?'
"It was a very hard seed. It was with a butter knife as well, it wasn't a sharp knife.
"I will learn from my mistake. That was a pretty interesting way to miss a game."
Link: https://theworldnews.net/au-news/lane-vows-to-learn-from-mad-monday-avocado-dramas